Miami Open Karate Championship June May 18 to 19, 2024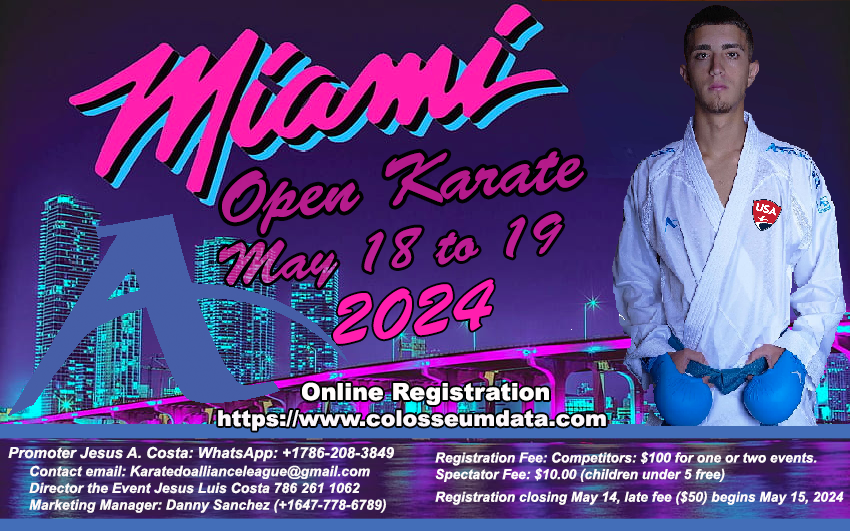 Re-scheduled for May 18 to 19, 2024
Karate-Do Legends September 23, 2023 Miami.
Karate-Do Legends 2023 Miami.

Categories and Divisions
Para-Karate Divisions Kata KG 7-17 KG / 18-Up ParaKarate / KB 7-17 ParaKarate / KB 18-Up ParaKarate
Divisions all level Individual Kata 12-13, 14-15, 16-17, 16-34 Senior, 35 Up Master Advance.
Divisions all level Individual Kumite. 4, 5, 6, 7, 8, 9, 10-11, 12-13, 14-15, 16-17, 18-34 Senior, 35 Up Master / Beginner, Novice, Intermediate.
All Divisions Kumite Advance Female and Male they will be separated by kilograms.
                 Advance Female (8 -39kg +39kg) (9 -43kg +43kg) (10-11 -47kg +47kg) (12-13 -50kg +50kg)
                                                   (14-14 -52kg +52kg) (16-17 -54kg +54kg) (18-34 -61kg +61kg)
                 Advance Male (8 -44kg +44kg) (9 -48kg +48kg) (10-11 -52kg +52kg) (12-13 -56kg +56kg)
                                               (14-15 -62kg +62kg) (16-17 -kg +65kg) (18-34 -70kg, -78kg, +78kg).
Tournament Register:
     Athletes and Coach may Register for this competition by logging in at the: //colosseumdata.com/tournaments/home
Shito Ryu
Heian Shodan

Heina Nidan

Heian Sandan
Heian Yodan 
Heian Godan
Juroku
Seienchin
Bassai Dai
Kururunfa
Suparinpei
Shihan Carlos Quintero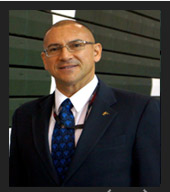 Shihan Carlos Quintero: The Kobushi Dojos are located in Florida and specialize in traditional Japanese karate instruction.
The Kobushi Dojos – Inoue-Ha Shito Ryu karate schools are also known as the Classic Karate Family Fitness Centers/ Kobushi Dojos North & South, Kobushi Dojo Miami Lakes, Kobushi Dojo Doral/New Age Karate, and Kobushi Dojo of New Port Richey.
Our Director is Shihan Carlos Quintero, 7th Degree Black Belt in INOUE-HA SHITO RYU Karate-do.
The Inoue-Ha Shito Ryu style of karate was founded by Grandmaster Yoshimi Inoue, of Tottori, Japan who is an innovative instructor, coach of world champions, and member of the Japanese Karate Federation Black Belt Rank Certification Board of Examiners.
Referee Seminar Alliance 2020. Sensei Fariba Madani
Referee Seminar Friday May 15, 2020.
Start Time 5.00pm.
1592 W 37 St Hialeah FL. 33012
It will be dictated by Sensei Fariba Madani
WKF Assistant Secretary Referee Commission
USA Karate Referee Committee
March's Tournament
Tournament's Name: Miami Open Karate Do.
Date: March 16, 2014, Sunday 8:30 am
Address: 11700 Hialeah Gardens High School (See Map)
Rules: USA-NKF Karate
Divisions: Regular: Kumite (All Divisions), Kata (All Divisions), Kobudo (Advance Divisions Only).  
( Beginners and Novice: Any of the Taikyoku Kata, Pinan, Heian, Geki Sai Ichi and Geki Sai Ni. Intermediate and Advance: Any Advance Kata)
More information: Click here.
Contact us: Phone: 786 208 3849 – 305-632-0366
Email: Click Here.
2023 Calendar
2013 World Karate League
`