Miami Open Karate Tournament National Qualifier May 25, 2019



National Qualifier Karate Tournament
May 25, 2019
To All Karate Do Federation, Organizations Clubs or Dojo and Sensei.
Mr. Ms. Representative
Instructors, Coaches, Athletes and Staff
Dear friends I will like to take this opportunity to thank each and every one of you for the great support we had last week end at the US Karate National Qualifier "Miami Open International Karate Tournament".
Saturday May 25, 2019. Location: Hialeah Gardens High School. Hialeah Gardens High School 11700 Hialeah Gardens Blvd, Hialeah Fl. 33018 (Basketball GYM).
Referee Seminar Friday May 24, 2019. 5.30pm. It will be dictated by Sensei Fariba Madani, WKF Assistant Secretary Referee Commission.
Location: Art & Sport Center 1592 W 37 St Hialeah Florida 33012
The Miami Open's 13Th Anniversary and we received international support from the following countries, Canada, Colombia, Nassau, Venezuela, Peru, Ecuador, Aruba, Haiti, Jamaica, Puerto Rico, Dominican Republic and Georgia.
From the US we received support from, New York, South Carolina, Texas, Georgia, Chicago, North Carolina, Colorado, South Carolina. We had competitors from Florida cities like West Palm Beach, Jacksonville, Tampa, Winter Haven, Winter Gardens, Orlando, Ocala, Fort Pierce, and Naples.
The event hosted 400 competitors and 900 spectators, truly we a blessed to have friends from so far that appreciate attending The Miami Open and look forward to our event growing and having more international support.
Thank You, and we will see you next year!
Sensei Jesus Costa
1592 w 37 street Hialeah, Florida 33012
Cell: 786 208 3849
Tel: 305-819-3389
Email: karatedoallianceleague@gmail.com
Registrations: www.colosseumdata.com
Website: www.Karate-DoAlliance.com
Karate 2020 Olympic Sport
Recommend hotels:
Courtyard by Marriott Miami West/FL Turnpike 11580 NW 105th St, Miami, FL 33178 (305) 500 9600
Holiday Inn Express & Suites Miami-Hialeah (Miami Lakes) 6650 West 20th Avenue Hialeah, FL 33016•(305) 362-7777
Tournament Star time 8.00am Saturday 25, 2019
Tournament Schedule

Categories and Divisions
Para-Karate Divisions Kata KG 7-17 KG / 18-Up ParaKarate / KB 7-17 ParaKarate / KB 18-Up ParaKarate
Divisions all level Individual Kata. 4, 5, 6, 7, 8, 9, 10-11, 12-13, 14-15, 16-17, 16-34 Senior, 35 Up Master. Beginner, Novice, Intermediate and Advance.
Divisions all level Individual Kumite. 4, 5, 6, 7, 8, 9, 10-11, 12-13, 14-15, 16-17, 18-34 Senior, 35 Up Master. Beginner, Novice, Intermediate.
All Divisions Kumite Advance Female and Male they will be separated by kilograms.
                 Advance Female (8 -39kg +39kg) (9 -43kg +43kg) (10-11 -47kg +47kg) (12-13 -50kg +50kg)
                                                   (14-14 -52kg +52kg) (16-17 -54kg +54kg) (18-34 -61kg +61kg)
                 Advance Male (8 -44kg +44kg) (9 -48kg +48kg) (10-11 -52kg +52kg) (12-13 -56kg +56kg)
                                               (14-15 -62kg +62kg) (16-17 -kg +65kg) (18-34 -70kg, -78kg, +78kg)
De will administer this Tournament: Sensei Jesus Costa.
Any questions or details Regarding the Referees Manager, please contact:
Shihan: Carlos Quintero at (305) 299-2632
Tournament participation fee will be as follows: Individual Kata and or Kumite $75.00
Spectators fee $ 10.00
Tournament Promoters. Shihan Carlos Riobo and Sensei Jesus A. Costa
For any questions or concerns please contacts me by E-mail: karatedoallianceleague@gmail.com
Call Official Contact: Sensei: Jesus Costa (786) 208 3849
I hope you will join us on May 24, 2019.
Sincerely,
Sensei Carlos Riobo and Jesus A. Costa
Karate Do Alliance Sport Karate League. Promoters
Tatami Scheduling to Start the Event.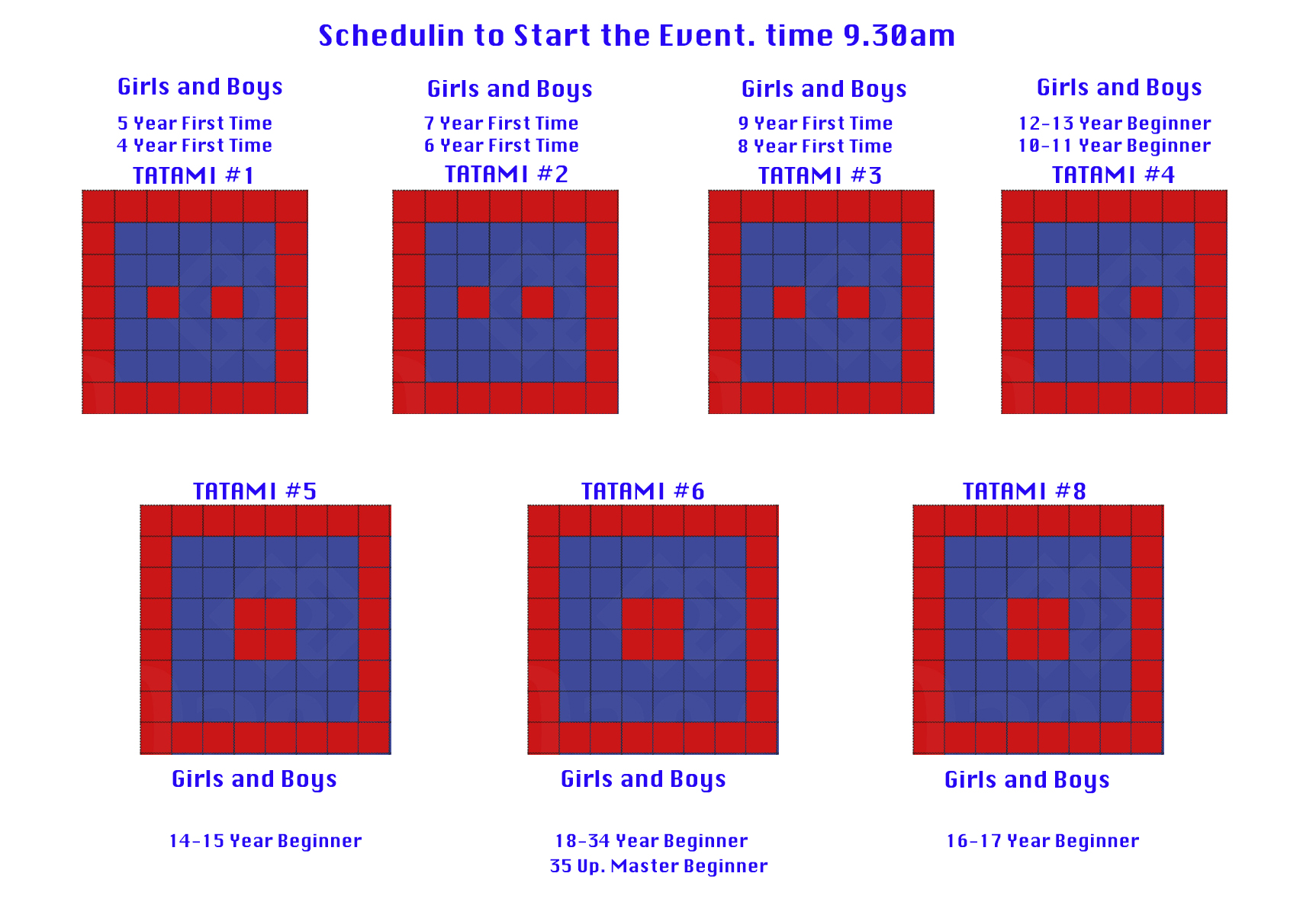 Adidas, Arawaza and MACS
​
WHEN: May 25

 

 
WHERE: Miami, Florida
For additional information and Registration click HERE!. 
       MIAMI OPEN 
GRAND FINALS PRIZES
Be ready to witness the Arawaza  and Adidas Extravaganza and you can be one of the winners too!
EQUIPMENT PRIZES
MOST OUTSTANDING JR, Cadet and Senior ATHLETE AWARD
THE ULTIMATE SPONSORSHIP
For each 18-34 (Senior) 
Advanced division winners.  
Equipment Prizes, 
For each 12-13 and 18-34 
Advanced division winners. 
Free top of the line Adidas and Arawaza Gi, 
For the most outstanding 
Jr. Male, Jr Female Cadet and Senior Athlete
(Chosen between ages 5 and 11) 
Adidas and Arawaza Sponsorship, 
4 athletes will become part of the 2019-2020 Team!
From the first place winners at the Adidas and Arawaza Grand Finals, A to A will select 4 total Athletes who will receive a full Equipment Sponsorship:
1 Female (12-13 years old)
1 Male (12-13 years old) 
1 Female (14-15 years old) 
1 Male (14-15 years old)
1 Female (16-17 years old)
1 Male (16 -17 years old)
1 Female (18-34 years old)
1 Male (18-34 years old) 
Spectator Prizes Fee Stay to watch the Grand Finals and you could be one of the winners too! (Free)