Chojun Miyagi Cup April 29, 2017
Karate Tournament Online Registration: Registration Here.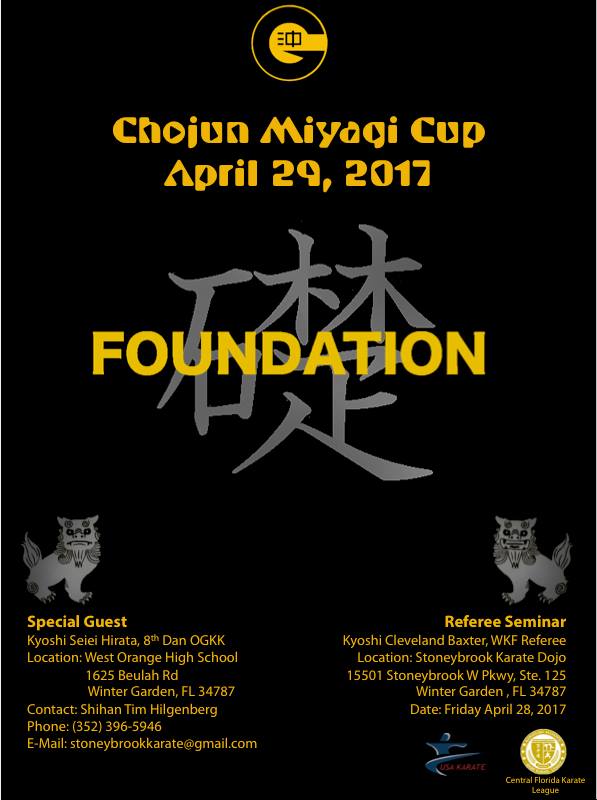 Dear Sensei:
It is our honor to invite you and your students to attend the 2016 Chojun Miyagi Cup karate tournament on April 29th, 2017 in Miami. This year our tournament will be held at West Orange High School 1625 Beulah Dr Orlando Florida. Our focus this year will be Gratitude.
We will have a special kata division showcasing Okinawan Kata. This division is limited to traditional Okinawan styles: Goju Ryu, Shorin Ryu, Uechi Ryu, Isshin Ryu and Ryu Ei Ryu only. Competitors must be advanced, male and female, 14years old and up. This is in addition to our regular WKF formatted Advanced Kata divisions.
Our special guests will be: Kyoshi Seiei Hirata from Okinawa, Japan, 8th Dan OGKK, JKF Gojukai and Kyoshi Cleveland Baxter, WKF Referee.
All competitors should register before April 15th, 2017. Late registration will be accepted up until the day before the tournament.
We hope that you and your students will be able to join us. If you have any questions or concerns, please do not hesitate to contact us. You may reach us by email at Stoneybrookkarate@gmail.com. 352-396-5946
Sincerely,
Sensei Timothy Hilgenberg
**Tournament Information**
 When & Where:          
Saturday, April 29th, 2017
West Orange High School
1625 Beulah Dr
Orlando Florida
  Time:                                   
         Doors open at 7:30 am*
              (Referees should report at 7:00 am)
               Athlete Check-In 7:30 am – 8:00 am
                 Opening Ceremonies at 8:00 am
*ALL athletes are responsible to be at the commencement of the tournament and remain until their divisions are called.
Athletes that do not show up to staging when called will be disqualified.
Spectator Fees:     $10.00 per person – CASH ONLY
      Children 5 & under are free
Awards: First, Second, & double Third Places
**Tournament Registration**
Fees:Registration is due by April 15th, 2016
$75.00 Kata, Kumite & Okinawan Kata (Advanced 14+)
                           LATE registration if received on/after April 16th, 2016
Late registration is $80.00.
To register: Return completed form(s) and payment payable to: Stoneybrook Karate
Goju Ryu Orlando Kenseikan
15501 Stoneybrook West Parkway
Winter Garden Florida 34787
352-396-5946
`